Rackspace Cloud DNS API 1.0¶
Last updated: Aug 04, 2016
Use the following links to get user and reference information for using the Rackspace Cloud DNS service REST API.
The Rackspace Cloud DNS API enables developers to view and manage domains, subdomains, and records through a simple Representational State Transfer (REST) web service interface.
For more information about the DNS service, see the Cloud DNS FAQ in the Rackspace How To.
About the Rackspace Cloud DNS API¶
Rackspace Cloud DNS is a Domain Name System (DNS) available to Rackspace Cloud customers. Interactions with Rackspace Cloud DNS occur programmatically via the Rackspace Cloud DNS API as described in this Cloud DNS Developer Guide.
The following figure shows an overview of Cloud DNS Infrastructure: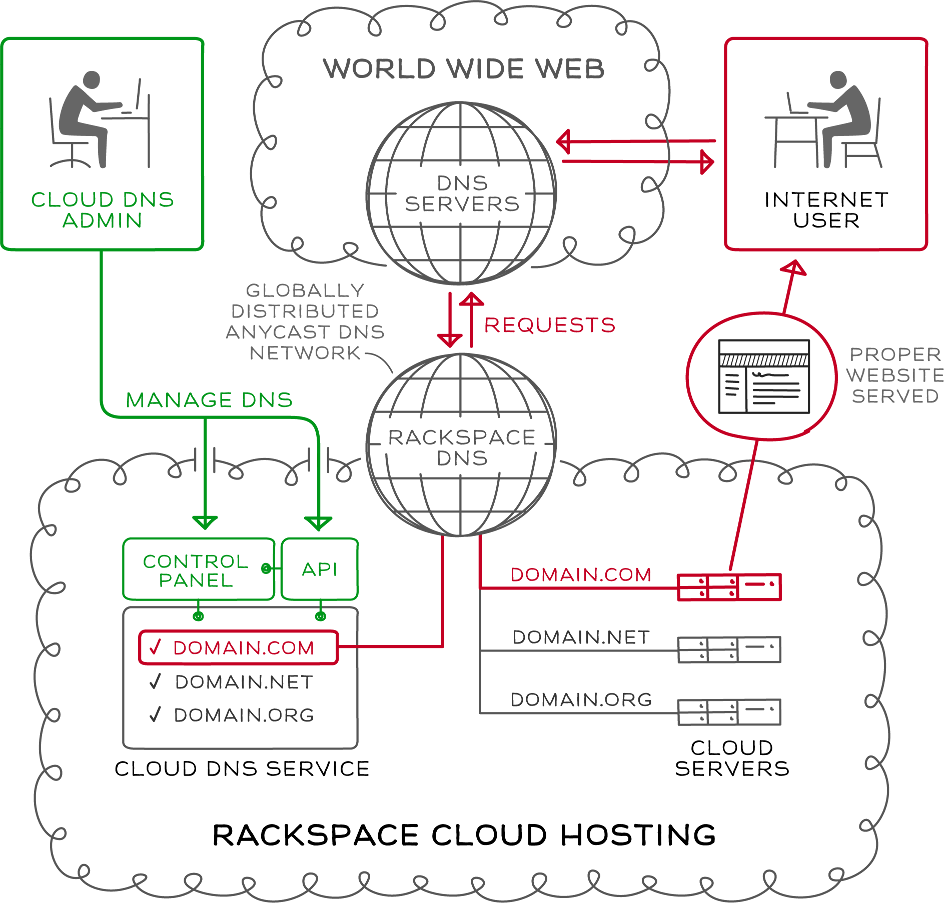 Additional resources¶
Issues and bug reports can be directed to your support team via ticket, chat, email, or phone.
You can download the most current versions of other API-related documents from developer.rackspace.com.
For more details about Rackspace Cloud DNS, refer to http://www.rackspace.com/cloud/dns. This site also offers links to Rackspace's official support channels, including How To articles, forums, phone, chat, and email.
For more information about the Cloud DNS service, see the Cloud DNS FAQ in the Rackspace How To.
Using this API document, your Rackspace Cloud account, and at least two cloud servers, you can get started whenever you'd like. See the Pagination. for information about getting started using the API.
Please visit our Product Feedback Forum and let us know what you think about Cloud DNS!
You can also follow Rackspace updates and announcements via Twitter.
This API uses standard HTTP 1.1 response codes as documented at http://www.w3.org/Protocols/rfc2616/rfc2616-sec10.html.
Document change history¶
This version of the Developer Guide replaces and obsolesces all previous versions. The most recent changes are described in the table below:
May 15, 2015¶
Added note about using special characters in record searches. See Search records.
March 30, 2015¶
Added note for exporting domain with more than 300 records. See Export domain.
Getting Started Guide¶
Use this Getting Started Guide to learn how to authenticate, send API requests, and complete basic operations by using the Cloud DNS API.
For more information about Cloud DNS concepts and API operations, see the Developer Guide and the API Reference.
Developer Guide¶
This guide is intended to assist software developers who want to develop applications by using the Rackspace Cloud DNS service REST application programming interface (API). It fully documents the Cloud DNS API, which enables developers to interact with the components of the service.
To use the information provided here, you should have a general understanding of the DNS service. You should also be familiar with the following technologies:
RESTful web services
HTTP/1.1
JSON data serialization format
Concepts¶
To use the DNS API effectively, you should understand several key concepts:
General API information¶
Ideas explained here are relevant to all operations of the API. See the API Operations chapter for details about specific operations.
The Rackspace Cloud DNS API is implemented using a ReSTful web service interface. Like other products in the Rackspace Cloud suite, the DNS service shares a common token-based authentication system that allows seamless access between products and services.
Note
All requests to authenticate and operate the service are performed using HTTPS on TCP port 443.
API Reference¶
Learn about the available Cloud DNS API resources and methods and see request and response examples.
Release Notes¶
Learn about new features, enhancements, known issues, resolved issues, and other important details about Rackspace Cloud DNS API 1.0 service updates.
Disclaimer¶
THE INFORMATION CONTAINED IN THE RACKSPACE DEVELOPER DOCUMENTATION IS INTENDED FOR SOFTWARE DEVELOPERS INTERESTED IN DEVELOPING SERVICE MANAGEMENT APPLICATIONS USING THE RACKSPACE APPLICATION PROGRAMMING INTERFACE (API). THE DOCUMENT IS FOR INFORMATIONAL PURPOSES ONLY AND IS PROVIDED "AS IS."
Except as set forth in Rackspace general terms and conditions, cloud terms of service and/or other agreement you sign with Rackspace, Rackspace assumes no liability whatsoever, and disclaims any express or implied warranty, relating to its services including, but not limited to, the implied warranty of merchantability, fitness for a particular purpose, and noninfringement.
Although part of the document explains how Rackspace services may work with third party products, the information contained in the document is not designed to work with all scenarios. Any use or changes to third party products and/or configurations should be made at the discretion of your administrators and subject to the applicable terms and conditions of such third party. Rackspace does not provide technical support for third party products, other than specified in your hosting services or other agreement you have with Rackspace and Rackspace accepts no responsibility for third-party products.
Rackspace cannot guarantee the accuracy of any information presented after the date of publication.