Host your Facebook app on the Rackspace open cloud
We live our lives on the web. And social media and networking has established itself a dominant force, becoming the most visited sites on the web – and among the most popular social media sites, Facebook has become the colossus, amassing more than an estimated 930 million users.
One aspect that sets Facebook apart is the applications – games, quizzes, you name it. While they may have a brief shelf-life, they can achieve massive popularity in a very short period of time. At Rackspace, we can help you plan for this unpredictable demand by hosting your Facebook app on our open cloud platform.
First, Facebook requires the use of SSL encryption to secure applications running on its platform. You can achieve this by using a Rackspace Cloud Load Balancer with SSL termination. The network diagram below shows one possible configuration for hosting your Facebook app on the Rackspace open cloud: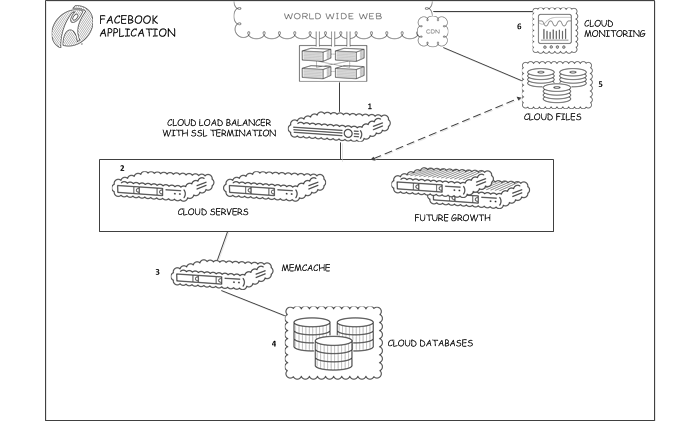 The above diagram comprises the following components:
Rackspace Support
We also provide a Fanatical Experience to our users when they host their Facebook app on the Rackspace open cloud. Our Managed Cloud offering makes sure support techs are available to help you 24x7x365 via phone, chat or ticket. They also provide support for your operating system and many applications, so you can focus on running your business, not your IT. To learn more about this please see our Managed Service spheres of support. (Please note that Memcached is currently outside our sphere of support - we can help install it, but can't offer full support on an ongoing basis).
Don't need our Managed Cloud? No problem. We provide a Fanatical Experience to all Rackspace cloud customers. Our techs are here for you 24x7x365 via phone, chat and ticket. They'll provide OS-level support, but won't be able to login to your server to perform advanced trouble shooting, or provide application-level support.
Other tools
A number of leading cloud application providers bring you apps, software and functionality to complement your cloud infrastructure, including the following:
That should get you started in hosting your Facebook app on the Rackspace open cloud!
This post was authored by Garry Prior who joined Rackspace in April 2012 as a Senior Product Manager in the UK, and played a key role in launching the open cloud product set in our International business. Prior to joining Rackspace Garry held various product management/development roles during eight years at UK mobile operator O2. Outside of Rackspace, Garry also founded and runs a mobile-web based business called Taxi for two. He is married with two young kids and lives just outside of London, UK.